A tradition of innovation and excellence for more than 30 years
Beyond our history, we are proud of our heritage and we are resolutely looking to the future, ready to take on new challenges and to continue to provide solutions for the processing and manufacturing of high quality metal parts and products. to our customers.
Our experience
An expertise forged by 30 years of adaptability and excellence
Over the past 30 years, the company has been able to demonstrate its adaptability and has been able to transform itself in such a way as to support its growth, acquiring unique know-how in the industry and thus specializing its various processing and manufacturing departments. . These departments include consulting, programming, CNC cutting, CNC bending, precision machining, robotic and manual welding, mechanically welded assembly, finishing, surface treatment, quality control, as well as the receipt and dispatch of the goods.

None of this would have been possible without the active participation and trust demonstrated by our employees. This is why we are committed to investing continuously to offer them a safe and motivating work environment, centered on the development of their skills.


We are driven by a clear vision: To become the essential reference in the production of mass-produced parts for manufacturers of value-added products in Quebec and North America. We are committed to distinguishing ourselves from our competitors by offering you innovative and personalized solutions by adjusting to your operations. We are proud to contribute to your growth, your success and your local and international influence.
There are no secrets; we are attentive to your challenges. We support you in the development and optimization of your products. We manufacture parts and products that are as complex as they are unique and of constant quality thanks to our know-how and the commitment of our teams driven by innovation. We post solid financial performances year after year which allow us to constantly invest in new technologies and thus increase our production capacities and grow alongside our customers and partners.
We certainly have great ambitions and believe that without our dedicated teams who are highly committed to our vision, nothing would be possible. We are direct competitors of the status quo while being extremely rigorous in our ways of doing things. We leave nothing to chance. For 30 years, we have believed in and applied partnership approaches based on trust and long-term commercial relationships.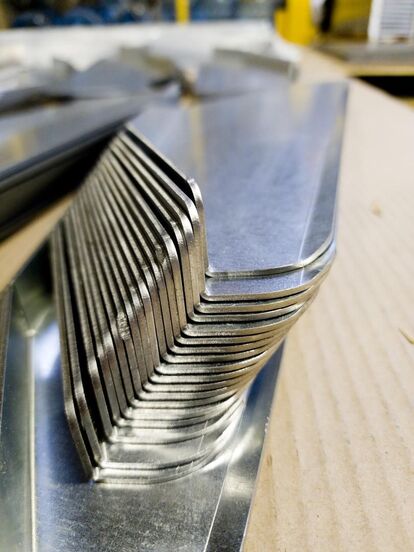 Our history
An evolution towards excellence and innovation
Founded in August 1991 in Ville des Laurentides by Mr. Yves Poulin, Usinage Laurentides initially specialized in tool manufacturing.
However, to meet the growing needs of an increasingly diverse commercial and industrial clientele, the company quickly evolved into sheet metal processing. This evolution required the adoption of innovative technologies and the acquisition of specialized equipment from 1995.

The strong growth naturally widens the range of services offered and who says strong growth, says space needs!​

The sustained growth of the company has naturally led to an expansion of its services and an expansion of its facilities. In 1998, Usinage Laurentides moved to new premises located in Mascouche, near Montreal, working on an area of ​​approximately 40,000 square feet. Driven by the vision and innovative spirit of its leaders, the company undertook over the following years to surpass itself and perfect its methods of value-added production, increased quality controls, operations management and administration. His ultimate goal was to ensure customer satisfaction through superior products and services.

Over time, Usinage Laurentides has always strived to remain at the cutting edge of technology by constantly renewing its equipment fleet, in accordance with industry best practices and technological developments. This approach has enabled it to consolidate its position as a leader in innovation.

Let's assess and solve your challenges